Total Tennis at Kaatsbaan Lodge
Kaatsbaan Lodge is the home of
Total Tennis
, the Northeast's Only Year-Round Tennis Camp. Whether you are a novice tennis player without a racquet, or a skilled competitor, Total Tennis is for you. Rent a court or improve your game with a lesson from our attentive staff.
Click images to enlarge
---
Our expert staff provide personalized
instruction for all skill levels.

Beginner
At the beginner level guests will focus on the fundamentals of tennis. Instructors will teach players basic stokes such as forehand, backhand, volley, lob and overhead; while incorporating drills for movement, quickness, positioning and conditioning. Lessons will also include basic strategy for match play in singles and doubles. Drills and games are designed so guests practice each fundamental, stroke and strategy.
---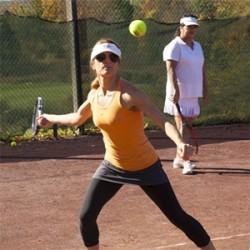 Intermediate
In addition to solidifying all the fundamentals of basic strokes, intermediate players will learn to hit forcing approach shots, spin serves, winning volleys and overheads. Consistency and keeping the ball in play are key components of an intermediate's improvement.
---
Advanced
Our advanced players work on finesse, touch and power while smoothing the rough edges of their game. You'll learn a kick serve and topspin lob. These players also focus on preparation for match play and advanced strategy.
---
Our Courts

Total Tennis has 20 outdoor tennis courts. During the hours of instruction guests will be assigned to one of the 11 red clay, 7 all-weather (hard) or 2 synthetic clay tennis courts. During non-instructional hours, guests are welcome to use any of the courts for free play. We are also home to the Kaatsbaan Tennis Center, which houses 5 indoor Super Cushioned hard courts. These courts are coated with 5 layers of rubberized acrylic for unsurpassed shock absorption.
---
For more information and to
book your Total Tennis experience: